Neurological disease has been proposed as a factor by many scientists when attempting to explain (unusual) visions, writings or creative works in members of the creative community (artists, writers) as well as the stories of religious 'prophets'.
Edgar Allan Poe
     Charles Dodgson (the true name of Lewis Carroll of  'Alice in Wonderland' fame) was epileptic and was a known user of the then quite legal narcotic laudanum). Other 'epileptic' writers include Edgar Allan Poe and Fyodor Dostoyevsky. Vincent van Gogh was epileptic and also used alcohol liberally.
     All these creative artists are now famous (even if they were not in their own time) and each one is known for his 'out-of the-ordinary' prose, poetry or painting. These creative minds may not have had full-blown 'grand mal' type seizures but rather a more focal neurological disturbance termed 'temporal lobe epilepsy'.
     In the 1980s, a device was created (the God Helmet) that stimulated the brain's temporal lobes with weak magnetic fields, producing in the subject wearing 'the helmet' the feeling of a heavenly presence, of being 'closer to God'.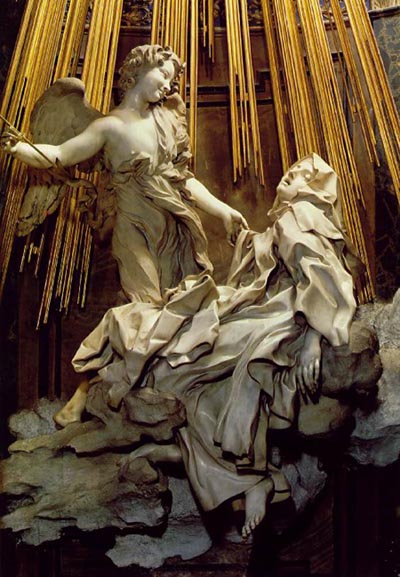 The Ecstasy of St. Teresa
(Bernini)
     Among religious historical figures, temporal lobe epilepsy has been proposed as a contributing element in the visions of Ezekiel (Book of Ezekiel), St. Theresa of Avila and Mohammed. Religious prophets often presented with symptoms of an overwhelming urge to write (hypergraphia), fainting, the inability to speak or, when they could speak, an inability to stay on topic, decreased interest in sexual relations and extreme religious convictions.
     These presenting symptoms or characteristics were often seen not only during the prophet's 'epileptic' state but even between seizures when he/she would have seemed almost normal. Together, these symptoms have been labeled 'Geshwind Syndrome' but that perhaps will be the focus of a later novel.